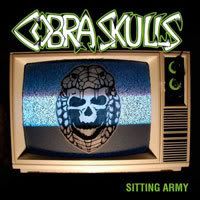 01. Cobra Skullifornia
02. Faith is a Cobra
03. The Cobra and the Man-whore
04. Don't Count Your Cobras Before They Hatch
05. Charming the Cobra
06. Use Your Cobra Skulls
07. I'll Always be a Cobra Skull (Folk Off)
08. Anybody Scene my Cobra?
09. Cobra Skulls Lockdown
10. Hasta Los Cobra Skulls Siempre!
11. Cobra Skulls Graveyard
12. Cobra Skulls Jukebox
13. Cobracoustic
Banda de punk/rockabilly sureño con tintes folk. Este disco tiene desde estribillos coreables tremendos hasta ritmos arrastrados de blues. Te gustarán si te gustan Neil Young, Against me y Motorhead a partes iguales. "Use your cobra skulls" es brutal, con estribillo en español incluído.
Download:
http://www.mediafire.com/?xdyylentzkl
MySpace:
http://www.myspace.com/cobraskulls